Impressive 179 acres of parkland. Bursting with a glorious selection of shrubs, trees, flowers and vegetable gardens.
A loverly little ad break! Continue reading below.
Quick Links
A loverly little ad break! Continue reading below.
About Golden Acre Park
Golden Acre Park is an incredible 179 acres of mature woodlands and gardens surrounding a beautiful lake.
Set between Leeds popular northern suburbs Adel and Bramhope. Golden Acre Park comes alive with nature's vibrant colours throughout the spring and autumn.
The park is home to wild birds, rabbits and squirrels. You may get lucky and spot the resident deer roaming!
Map of Golden Acre Park
Need help navigating? The map below outlines all major areas of Golden Acre Park.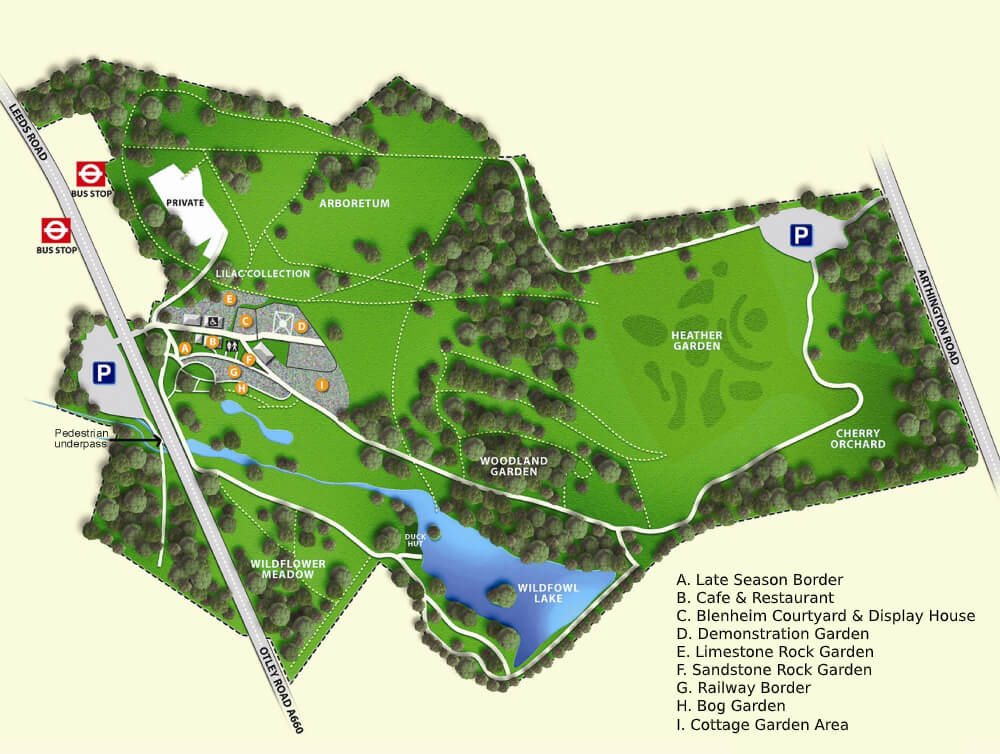 Photos of Golden Acre Park
Things to do at Golden Acre Park
Its a perfect place for bird watching. Site by the beautiful lakes and listen to the trickle of water in the streams as nature passes by. There are many species of duck, swans, herons and geese to be seen. Although it may be tempting to take a dip in the lake, swimming and fishing are not permitted..
Although there is not a children's play area at Golden Acre Park, there are plenty of paths for cycling. It's the perfect place to teach little ones how to ride a bike. As well as playing ball games on the grass.
Fancy some music? Head down to Golden Acre Park on a Sunday throughout the summer and be entertained with live band performances. Check out Leeds Concert Season for details.
Video of Golden Acre Park
How long is the walk around Golden Acre Park?
Golden Acre Park is a great place for a short walk, you can head out around the lake (1.5km). This is a fairly easy route, and will take an average of 41 min to complete.
Or if you are wanting something a bit longer expand it through the woods (2.9km). This will take around an hour and 20 or so to complete.
Can you cycle around Golden Acre Park?
As a general rule, no bikes are allowed in the park. However this rule does not apply to children's toy bikes.
Is Golden Acre Park a good place to run?
Golden Acre Park is a decent spot to get in a run. However, we recommend you pick your time well. Early morning, during the day mid-week, or late would be the best time. During the day on the weekends the park can get quite busy. The Meanwood Valley Run route ends here, and is a pretty interesting route!
What Animials Are At Golden Acre Park?
Golden Acre Park is a pretty busy place for birds! This is due to the amount of woodland and water at Golden Acre, and also the green surrounding area (Breary March, Pauls Pond, Adel Nature Reserve). You may be lucky enough to see one of the following: waterfowl, migrant warblers, Eurasian Nuthatch, Eurasian Moorhen, Eurasian Coot, Tufted Duck and Great Crested Grebe. And don't forget Swans and Geese.
Two other animals you are likely to see a lot of are dogs, and squirrels. Dogs due to Golden Acre being a great place to go for a walk. And Squirrels because of the woodland, and abundance of nature loving people. These squirrels are not like your usual woodland animals. They are particularly confident!
A loverly little ad break! Continue reading below.
History of Golden Acre Park
Golden Acre Park was once a privately owned amusement park. Built by Frank Thompsond and opened in 1932 it had a swimming pool, miniature railway, boating lake, zoo and music tower.
The amusement park however was only open for 6 years before closing due to the Second World War. It was taken over by Leeds City Council in 1945 and half of the boating lake was filled in.
The park's swimming pool, the Blue Lagoon, was popular with families and remained open until the early 1960's. Now a distant memory, it is buried in the woods near the Duck Hut at Wildfowl Lake.
Take a look at the Discover Leeds Golden Acre Park page for more information!
Meanwood Valley Trail
Golden Acre Park is the last point on the 7 mile Meanwood Valley Trail which takes you on a adventure through nature's beauty and Leeds industrial past. Starting at Woodhouse Moor, moving through Meanwood Park, under the Seven Arches, before arriving at the stunning Golden Acre Park.
Golden Acre Park Parking
There are several car parks at Golden Acre Park. Both are free and have a lot of spaces.
Food and Drink at Golden Acre Park?
Golden Acre Park has an excellent café on site. For those partial to a cream tea, this is the place to visit. There is a dog friendly patio and the car park is just around the corner. A great place to stop into after a wander around the park.
Golden Acre Park Café
The Café serves wide range of snacks and light lunches and refreshments. More info on the Golden Acre Park Café.
Postcode LS16 8BQ (Google Map Directions).
Take a Picnic
Take a perch on the many benches and bring along a picnic for the perfect outdoor dining.
Lawnswood Arms
If you want something off site, take a short drive down the A660 and you will find the Lawnswood Arms, offering pub dining and a range of beverages. More info on the Lawnswood Arms.
Google Map Directions to Lawnswood Arms.
Are BBQs allowed at Golden Acre Park?
Unfortunately BBQs are not allowed in Golden Acre Park. This is due to a bylaw stating "No person shall light a fire or place, throw or drop a lighted match or any other thing likely to cause a fire".
Is Golden Acre Park Wheelchair Accessible?
For the most part, yes. The main footpaths around Golden Acre Park are well maintained, and usable even during rain in winter. The route to the cafe is also fully accessible.
Care should be taken when using the smaller side paths and woodland routes. Especially when muddy. These paths have a lot of exposed tree routes and puddles.
Where to stay near the Golden Acre Park?
Looking to stay near Golden Acre Park? Lets us know if this is something you are interested in (contact form below), and we will add this section to the site!
Where are toilets at Golden Acre Park?
Golden Acre Park has public toilets that are occasionally open. These are worth a shot, if not take wander around to the café. Golden Acre Park also has a café that has toilets for patrons.
Have a question? Want something adding?
Would you like something to be added to this website to help in the future? Have a tip about a particular area?
Maybe you have a more specific question. Ask us, or let us know so we can help and improve the site.
Send an email to: hello@discoverleeds.co.uk.